Advanced Solutions for Flight Simulation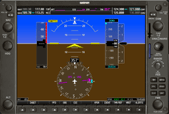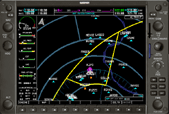 Requires either Microsoft Flight Simulator 2004, FSX, FSX: Steam, ESP, or Lockheed-Martin Prepar3D (V3 and lower)

Compatible with Windows 10 / 8/ 7 / Vista
Note: Windows XP is no longer supported

Adds G1000 panel to default Cessna 182 in FS2004
Adds G1000 panel to default Cessna 172 in FSX

Adds a 182S and 182T to FSX
182S uses Microsoft Autopilot
182T uses Garmin GFC-700 AFCS

Undockable MFD and PFD for multi-monitor use

Compatible with real world AIRAC navigation data from RealNav Data
(RealNav is required for SIDs and STARs. Default Microsoft/Lockheed database contains approaches only). Refer to this link for instructions on how to integrate RealNav Data into your Mindstar avionics.

Online Purchase Only - No Shipping Required

Prepar3D V1 and V2 users, please note, since there is no Cessna 172 installed in Prepar3D, we have no place to put the G1000 units. However, there is nothing to keep you from installing this gauge into any other airplane you wish.

Refer to this link for instructions on how to modify panels to include the G1000.

Note also that we have been using the FSX 172 in Prepar3D with good results, so if you own FSX, you might consider migrating the 172 from FSX into your Prepar3D SimObjects folder.

---
Product Reviews

"From the outset this product shines quality. Watching the system load up, fully animated is something in itself. You will notice the clear display and maybe be surprised how well it all performs as it steals little from resources. Starting up you will certainly be overwhelmed by the amount of features on offer (unless you are a real G1000 user). In all you are purchasing a very good, polished representation of a very complicated piece of kit. If you are training with the real thing or a simmer seduced easily by technology I can thoroughly recommend the Mindstar G1000."

– Matt Hinchliffe - FlightSim.Com Review - February 2008
>>Read the Complete FlightSim.Com Review Here
"Mindstar has gone where no-one has dared to go yet and offer a truly representative simulation of the Garmin G1000 integrated cockpit for FS2004. I personally found this to be a very helpful tool to use for my own familiarization using the G1000 system. If you have an interest in learning the Garmin G1000 systems, I recommend this software to you. If you are a pilot and are renting, are considering purchasing or already own an aircraft with the G1000 in it, this is going to help with familiarization quite a bit."

– Zane Gard - AvSim Review - August 2006
>>Read the Complete AvSim Review Here