Overview

Our software products are used in certified and non-certified simulators worldwide. We have three different licensing levels:

1. Basic
2. Advanced
3. Professional/Ultimate

The default order page on our website is only for Basic licenses. Read more below if you need to decide if an elevated license is required for your particular situation, and which one will best suit your needs.
Basic Editions - Home Users Only
The Basic edition license offers some limited hardware interface capability (like when you have a few hardware knobs and buttons, or a keyboard that you want to use to control the software). Home users who have a desktop or laptop computer with no avionics hardware, or if you use consumer-grade Saitek or similar hardware, the Basic edition is all you need.

Elevated Licenses (Advanced or Pro/Ultimate)
If you need extensive hardware control capabilities, you must purchase an elevated license (Advanced or Professional) depending on which features you are attempting to utilize. (See the chart at the bottom of this page for more details.)
Note: An Advanced or Professional license is required if you are using hardware from companies such as
RealSim Gear,
Ruscool,
Brunner,
SimKits,
and others - based on the guidelines below.

Advanced Editions of avionics can still use the home edition of RealNav Data, but Professional Edition avionics require professional RealNav Data.
Buying Elevated Licenses for Home Use
For home users who need advanced or professional features, the price is simply a fixed price which is the same as the "minimum licensing price" designated for each edition.
Advanced Editions can be purchased directly from our Advanced Edition Order Page.
Note: Professional licenses cannot be purchased from our website. More information on pricing can be found here.
Pricing for Simulator Manufacturers
For simulator manufacturers bundling our software into a retail simulator, the price for both Advanced and Professional licenses is based on a percentage of the full retail price of the simulation device in which they are being bundled or used. In addition to the percentage calculation, each edition has a "minimum licensing price" in effect regardless of the simulator's retail price. Use the pricing calculator to help estimate your cost. For additional information about bundling into retail simulators, contact us.
Governmental Certification (FAA, CAA, etc)

Customers seeking governmental certification of any kind for their simulator, in any country, must purcahse a Professional license. You must also comply with certain additional regulatory and contractual requirements as described in our professional license agreement. Contact us for Professional Licenses.

Features Chart for Basic, Advanced, and Professional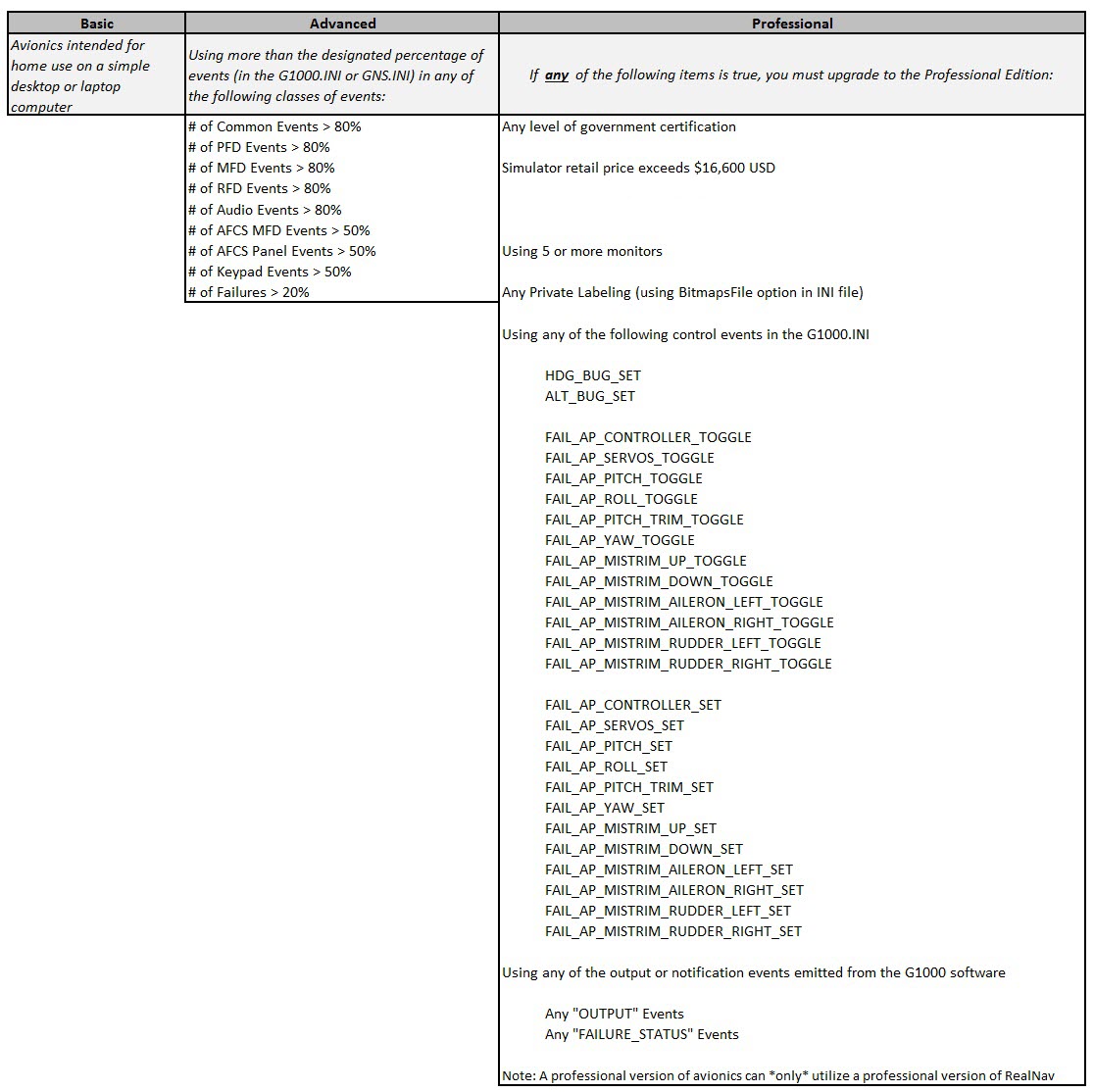 For your assistance, we have provided a Software License Pricing Calculator for Advanced and Professional Editions